People wanted - to test revolutionary new hearing aids
Remarkable speech clarity - Hear all sounds around you - Very discreet style
Do you currently wear hearing aids?
Have you had your hearing checked in the last 12 months?
How to try hearing aids in 3 steps:
Book a free hearing test
Book a free appointment online for a hearing test in one of our clinics
Meet with a hearing care professional
Have a trained hearing care professional complete your hearing test
Test a pair of hearing aids
Test a pair of hearing aids that have been fitted to your unique hearing needs.
Request your FREE hearing aid test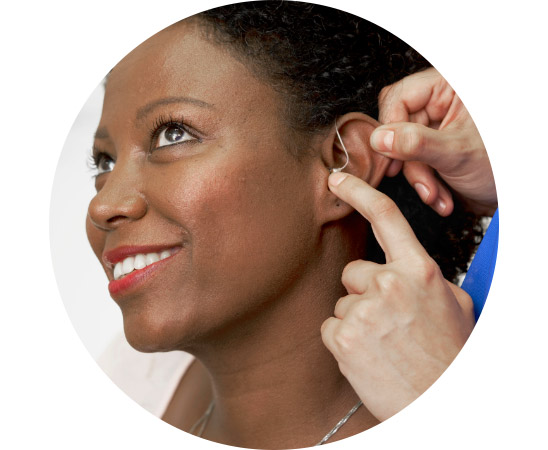 What's new with these hearing aids?
Vastly improved speech understanding
Studies have shown that these hearing aids provide speech understanding that is close to normal hearing¹, which gives you the confidence that you heard it right the first time.
Reduced feedback sounds in your ears
Some hearing aid wearers may have noticed feedback in the past. But modern hearing aid technology reduces the likelihood of feedback – even while connected to smart devices.
A 360-degree sound experience
The latest technology in modern hearing aids processes all sounds around you to determine which are the most important. This way you get a fully balanced sound picture.
Smart technology
Hearing aids with smart technology were designed to deliver more sound to the brain that's much clearer, all while improving speech understanding and reducing listening effort.
A natural hearing experience
The latest hearing aids open up new possibilities for people with hearing loss. The latest BrainHearing™ technology supports the brain's natural process of making sense of sound so that you can hear the most relevant sounds.
Artificial Intelligence
Our latest hearing aid uses deep learning, which is the most powerful benefit of artificial intelligence. It gives you access to a complete and balanced sound scene where each individual sound is delivered with detail and clarity.
Frequently Asked Questions
We encourage you to bring a friend or loved one to your appointment so that they can take part in your "familiar voice testing." This portion of the test is where we will assess how well you can understand familiar voices, and it allows us to get a realistic picture of how well you are hearing the voices of friends and family in everyday life.

Once you have chosen a pair of hearing aids based on your hearing care professional's recommendations, your hearing aids will be fitted to suit your personal hearing needs.

If you have previously worn or currently wear hearing aids, you can book an appointment to learn about and experience the latest hearing aid technology. This will allow you to compare the experience to your current hearing aids and explore if you would like to upgrade to a new device.